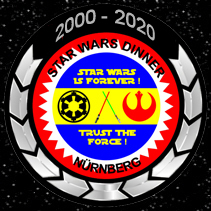 About Us
The STAR WARS DINNER NUERNBERG is a non-commercial union from fans of the region Mittelfranken.
It is our aim to have fun with many like-minded people.
Therefore the STAR WARS DINNER NUERNBERG was founded in 2000 from Claudia and Thomas.

Our Activities
Events
exchanging and discussing news
making costumes
figures customizing
exchanging merchandise
playing SW-Trivial Pursuit, SW-Tabu, SW-Monopoly etc.
etc., etc., etc.
STAR WARS™, all names and pictures of STAR WARS™ characters and all with STAR WARS™ in connection standing symbols are registered brand names and are subject to the copyright of Lucasfilm Ltd. With the homepage no commercial purposes are pursued. The use of contents of this side requires permission by the STAR WARS DINNER NUERNBERG. The same applies to the use of photos, which show members of the STAR WARS DINNER NUERNBERG. Hot linking is not allowed!
Optimized for Microsoft Internet Explorer (800 x 600 Pixel)
Our Meetingpoint
The Amicitenturm in the townwall of Nuernberg. Here is the right place for our "follies" without disturbing the neighbourhood.
Date
Any second month.
Any further questions? Send us a mail.
German Version
Last Update: 16/11/2018
Area(s): General Update